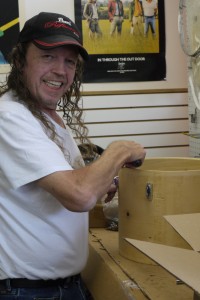 Re-cutting drum bearing edges:
Snares:$40-60
Toms: $35-60
Floor Toms: $65-80
Bass Drums: $80-$100 basses 18″-22″ Bass drums: 24″ and up $125-150
Re-wrapping services for drum shells:
Snares:$20-40
Toms: $20-40
Floor Toms: $30-50
Bass Drums: $40-$60
NOTE: All re-wrap cost includes filing the bearing edges and drilling out for drum hardware but does not include reassembly costs. This is the cost for standard pearls and Sparkles that use contact cement, other wraps maybe less expensive such as satin flames and peel and stick applications. Drums to be wrapped with Glass glitters or exotic wood veneers add 10-15%. It is best to call for pricing on your particular drum set recover job for the most accurate estimates. Customers may elect to remove and reinstall drum hardware to save costs. AME labor rate is $45/hour for those services.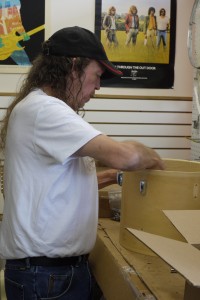 Hole drilling services (drum lugs, snare hardware, and mounting hardware); for custom drum builds when AME is building a custom drum set for the customers specific requirements:
Snare strainer and butt plate: $15.00 per set
Tom mounts: $10
Bass drum mounts: $15
Bass drum spurs: $20 per set
Floor tom mounts: $15/set
Snare beds; $25 per shell
Lug hole drilling: $40-60 per 5 piece drum set
Standard lug hole drilling for two hole lugs: $1.00/lug or $3.00/lug for offset lugs
We also offer professional drum tuning, cleaning, and tune-ups for drum sets at our hourly rate of $45.00. We offer a wide selection of heads including Remo, Evan, Aquarian and Attack drum heads. Call for pricing and availability.
Project Examples:
1. Gretsch Drumset Recover/Restoration
2. Floor Tom Recover and Restoration
---