Our Repair Staff
Guitar Repair: Bryan Lilje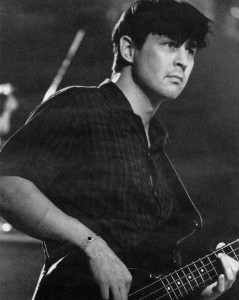 In 1980, as an injured aging skateboarder, Bryan Lilje relocated from Atlanta to attend the University of Georgia in Athens where he was the lone skateboarder in that sleepy hipster college town.  With his 3 on the tree Dodge pickup truck, he started transporting as a roadie for the early Athens scene bands such as Pylon, Method Actors, Love Tractor, Limbo District, Art in the Dark, Kilkenny Cats, and many others. All this was in between his own various art rock bands where he played bass and guitar. When these bands had guitar and gear problems, Bryan became the de facto guitar tech since there were little if any guitar repair shops in Athens in those days; Bryan self-taught and learned from what little published works were available at the time about stringed instrument repair.
After graduating with a BFA in drawing and painting and while working restaurant jobs, Bryan furthered his guitar repair skills in 1987 by moving to Atlanta to apprentice and work for Echeverria Guitars and completed guitar building and repair classes at The Apprentice Shop in Spring Hill, TN, during the summer of 1987. Between his work at Echeverria Guitars, Bryan played bass with the Ellen James Society, which toured around the country on their own and with the Indigo Girls. Bryan continued his brand of playing bass in other Atlanta bands such as Pillowtexans, Engine, and VieTNam.  Eventually Bryan ended up as the in house guitar repairman for the much missed Clark Music. There he repaired and restored many local musicians beloved and road worn guitars, basses, and other stringed instruments as well as becoming a Fender Gold Level warranty service provider. Quietly and through word of mouth, he continued repairing and restoring guitars when Clark Music closed in the late 90's.
Somewhere between the work load of guitar repairs in the late 90's, Bryan ended up as a structural engineering and post-tensioned concrete CAD draftsman. In 2003, he became a father by being blessed with his daughter Lydia Sue.
Now Bryan Lilje Guitar Repair is the in house guitar and stringed instrument repair shop for Atlanta Musicians Exchange. If you have a guitar, bass, or other stringed instrument in need of playing better and loving care, Bryan is here to service that need with friendly, quality work.
Drum Repair: Mike McKenney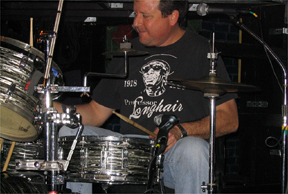 Mike's Stats:
Born: Oakland CA, 1963
Moved to North Augusta, SC 1965
North Augusta Senior High, 1979-1981
Clemson University: Bachelor of Science
College of Architecture, 1981-1986
Mike's life as an architect:
Mike moved to Atlanta, GA in December of 1986 and worked in the architectural field from 1986-2002 at various small to mid size firms. From 2002-2004 he worked at a commercial general contractor in Marietta; from 2004-2008 he worked at Smallwood Reynold Stewart Architects located in Buckhead; from 2008-2010 he worked at Perkins+Will Architects, and spent 6 months in 2009 working in Cairo, Egypt. His career as an architect ended largely due to the demise of developer driven design, construction, and financing in the greater Atlanta real estate market.
Mike's personal/professional life as a drummer & vintage drum collector/restorer:
Mike had a fascination with the drums from an early age as a teenager but did not pursue his drumming career until he was in college, when he played in his first band on a roommate's borrowed drum set. He didn't own a drum set until after he graduated from college and moved to Atlanta in December 1986. It was a few years later that Mike connected with some like-minded garage musicians in Brookhaven, and eventually bought his first drum set in 1989. During that time, he actually began his drum collecting in earnest, and loved to tinker with and fix drums in his spare time. Before the advent of the Internet and eBay, Mike would buy drums locally, restore them, and sell them within the every growing vintage drum/enthusiast/collector network. He always dreamed one day that he would own his very own drum shop. By the early 1990's Mike had already begun to piece together one of his prized possessions: a 1960's Ludwig Black Oyster pearl drum set just like the one Ringo played on Ed Sullivan in 1964. Also during his time in the garage band the WayHavers, Mike was moving in the direction of getting out of the garage or playing at a friend's pool party to playing on stage in front of total strangers.
In 1993 Mike was rooming with Sean Gould (his musical mentor of sorts) and they formed a 4 piece band called Hungry Mofo, still not quite ready for prime time club gigs just yet. This is when he learned chops, grit, song writing skills, playing in the pocket ,and supporting the song. HM recorded a CD with original music and never fully realized their musical potential, as Sean moved to Miami in 1994. In 1995 Mike finally found the band he was longing for: Hulapopper. They did amazing gigs wrote and recorded a CD, had a Sunday night house gig at Buckhead Saloon, and were sponsored by Budweiser during the 1996 Olympics. During this run as a drummer, Mike was truly bitten by the vintage drum bug and started to collect Ludwig snares and drums set as well as Rogers, Gretsch and Slingerland. By 1998, Hulapopper ran its course ; one of the late additions to the group, Jamie Hood (keyboards), became one of the 3 founding members of The Squirrelheads. Jamie Mike auditioned Eric Murphy, who has been their guitarist since September 11, 2001. They set out to take what Hulapopper did to the next level with a real focus on New Orleans funk, soul, and zydeco. Mike's musical life as a drummer really took off by delving into roots of New Orleans jazz, blues and funk. In 2006 , The Squirrelheads released a self recorded, produced and engineered CD "From the Center of the Universe." It is hard for Mike to believe, looking back on his music career,that he would be still drumming in the same band for (now) 10 years. He owes his band mates Jamie Hood , Eric Murphy and Bob Glick a huge debt of gratitude for his musical upbringing and his skills as a gigging drummer. It is largely due to to Mike's belief that he was the weak link in the band with regards to music ability and education. Mike's drumming career has been a sink or swim disposition and he feels lucky to be surrounded by such great musicians for the last 10 years.
With the demise of his day gig in 2010, Mike began to step up his drum flipping (buying, restoring and reselling); this is where AME's motto "Re-Use, ReCycle, and Rock ON" began. He also began to build and customize drums and drum sets in his spare time. Mike continued to restore and recover vintage drums along side his path as a working drummer. In the summer of 2011, Mike had his first Huge Musical Yard Sale, also a precursor to the now bricks-and-mortar store, Atlanta Musicians Exchange (AME). In December, 2011, Mike signed a lease on the 2,619 sq. ft. space. Along with the help of Johnny Scales, Mike designed and along with Johnny built the interior space of the music store. Since Mike came from a very humble music education as a youth, he realized the importance of music lessons and formal music training beginning as young as possible. He feels fortunate to be able to enjoy two careers during his lifetime as an architect and now as a music store owner. How many people can honestly say they truly love what they do?  It only took Mike 48 years to find his true calling but he believes this is what he was honestly meant to be when he grew up.
---